The Hate Directory
Hate Groups on the Internet

Compiled by Raymond A. Franklin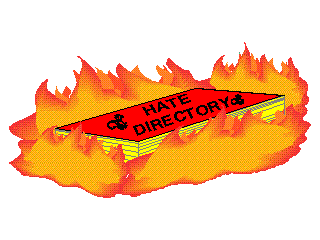 Forward corrections and additions to:
Raymond A. Franklin

P.O.Box 121
Woodstock, MD 21163-0121
sitemail@hatedirectory.com
NOTE: Effective July 1, 2008, the Hate Directory will no longer be available through www.bcpl.net. Please use www.hatedirectory.com for the latest version.
The April 1, 2010 release of the Hate Directory is now available in non-printable Portable Document Format. Features now include directories of blogs, web rings and racist games available on the Internet, as well as racist friendly web hosting services. Recent additions include directories of racist Internet radio broadcasts and podcasts. You will require the free Adobe Acrobat Reader. As in previous editions, all links are clickable, allowing you to access the sites directly from the index.
Printed copies of the 170 page Directory are available without cost to law enforcement and human rights agencies and organizations from the address above. Others please enclose $20.00 to cover processing. Checks should be made payable to Raymond A. Franklin.
© 2008 Raymond A. Franklin